Focus on service robots more scene application requirements, NORCO launched high extension scheme of computer hardware
At present, all kinds of service robots, more and more appear in People's Daily life, along with the development of artificial intelligence technology in the market, and still keep good situation.
01、Service robot application scenario
Service robot is refers to under the unstructured environment for people to provide maintenance, repair, transportation, cleaning, security, rescue and care necessary services such as intelligent robot. As domestic labor school-age population quantity to reduce the costs and human ascension, industries are tend to choose "machine generation" of new mode of labor. Especially outbreaks, makes the intelligent robot with "non-contact, high efficiency, 7 * 24 uninterrupted operations" advantages of application of high demand in the field of public service, personal/household areas and other aspects in the field of logistics, electrical, and other professional service robot also ushered in the high speed development.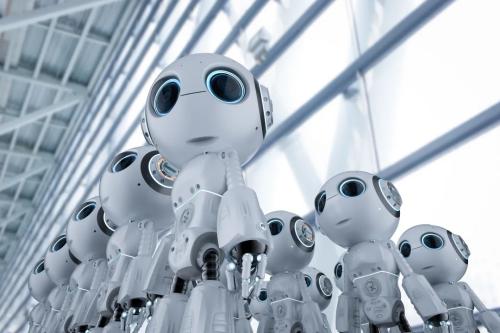 Image: thousands of grid (if the infringement please contact delete)
NORCO understand, the domestic intelligent service robot industry is constantly meet user needs to many application scenarios in the process of the ground. , such as the individual/escort in the field of household robots, in the field of public service delivery, hospital disinfection robot robot, the mall is intelligent service robot, and the professional in the field of electric power inspection robot, and logistics distribution robot · · · · · ·, in addition to highly automated under the requirements of the basic function such as autonomous navigation, automatic control, but also meet the demand of highly intelligent intelligent recognition, human-computer interaction, multimedia entertainment services.
Diverse application scenarios and the fragmentation of functional requirements, the service robots the size of the market rapidly expanding at the same time, also brought many challenges to intelligent robot system design. Especially differentiation function extension and computational load increases, the robot control system must be professional and reliable, system perfect hardware platform to provide key support for it.
02、NORCO high extension scheme of computer hardware
NORCO is the domestic well-known professional provider of embedded computer products, has been committed to multiple industries provide highly flexible and customized products and services. Focus on service robots more scenario application requirements, the company USES the Intel, Rockchip, NXP, low power consumption, high extension intelligent core, creating a series of computer hardware, high quality products has been widely used in domestic robots control system.
MITX-6922 V2.3, however is NORCO based on Intel QM77 / HM76 the MITX industrial motherboard chipset. Product support Intel i7 the second/third generation/i5 / i3 processor; Supports SATA3.0, high-speed storage; Multi-serial port design, support VGA + DVI D + an LVDS interface, support double independent double show, support double high clear audio, CPU integrated graphics controller, can meet the demand of various ancillary access; So design, support gigabit Ethernet/WIFI / 3G network, support CAN communication module is optional; Support the PCIE acquisition card, card, graphics and various extensions, strong stability, good performance.
BIS - 6678, NORCO is based on the Intel HM77 HM76 / QM77 chipset no fan of the embedded system. Product support Intel Socket G2 Mobile Sandy/Ivy Bridge i3 i5 / i7 processors, ram, supports fast algorithm with high-speed storage; Provide a rich I/O interface function, support + HDMI display interface, VGA support independent double show; Provide multiple COM, LAN, USB interface, support Mic, in the Line out, 8 x GPIO; Strong extensibility, support the PCIE card, graphics CARDS, acquisition card and various extension; Fanless design, low power consumption, energy conservation and environmental protection; Supports desktop/hanging/embedded installation, can be widely used in industrial automation, intelligent robot, intelligent transportation, kiosks and other intelligent Internet of things.
In addition, NORCO intelligent robot industries can also be in providing custom industry machine and tablet production. Entrepreneurship in nearly 30 years, north China to build the X86 architecture and control in the ARM architecture two mature computer products supply chain, and can satisfy customers more industry applications need.