In vitro diagnostic industry high-speed development, NORCO China can provide special computer automatic biochemical analyzer
Along with China's economic construction speeds up, such as "health 2030" planning health service reform policy gradually fall to the ground, sinking domestic medical resources, primary care system rising demand for in vitro diagnostic equipment, domestic usher in rapid development of in vitro diagnostic industry.
01
In vitro diagnostic is refers to the outside through the body samples such as blood, body fluids, such as detection and clinical diagnosis information, judge the body function or disease of products and services. And automatic biochemical analyzer, branch of in vitro diagnostic medical devices, in addition to the general biochemical project, also can undertake hormones, blood drug concentration of special compounds such as timing, continuous monitoring, and other measurement of all kinds of reaction type, and the operation process of sampling, color, and the results calculated steps, writing reports, etc all can be done by imitation of manual operation of the instrument, has the characteristics of simple, efficient, sensitive, standardization, to further improve the prevention, diagnosis and treatment of disease has positive significance.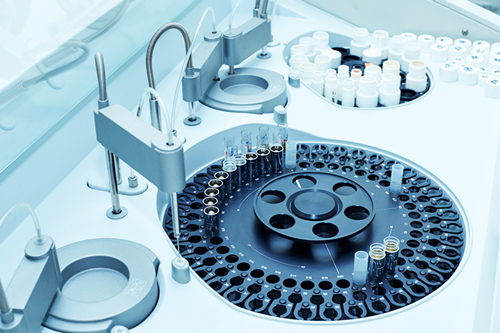 Image: thousands of grid (if the infringement please contact delete)
Especially in the in vitro diagnostic demand continues to expand, the domestic policy support import substitution, domestic development of in vitro diagnostic equipment space greatly. And automatic biochemical analyzer as a highly mechanized in vitro diagnostic device, usually by sample, sampling device, detector, the microprocessor controller (program), printer, monitor, etc. Among them, to accept the feedback signals of different parts, action and function of the microprocessor control instrument, and response to view state, man-machine "dialogue" situation, the analysis result and so on the function of the monitor is the key part, bear the analyzer system functions such as computer control and hd display, and equipment for precise reagent sample collection, intelligent monitoring analysis, the importance of efficient software operating hardware support.

Therefore, north China as a domestic well-known embedded computer control in the product providers, around the domestic medical in vitro diagnostic equipment industry, have launched a series of high quality, high performance embedded computer products, can provide hardware platform for automatic biochemical analyzer.
02
In view of the automatic biochemical analyzer of iterative demand integration, intelligent technology, north China industrial control can provide based on Intel, grace wisdom pu, haisi, red core micro processor, ascended, sea ray platform, embedded computer interface card registration system and industrial tablet production custom, both X86 architecture and the ARM architecture can meet the practical application of customer needs.

l NORCO China computer interface card scheme
NORCO China can provide automatic biochemical analyzer microprocessor USES diverse computer board, including three inch plate, four inch plate, MITX motherboard, ATX motherboard, etc. Product support Intel, red core micro, ascended, signs in the core, sea ray platform, such as low power consumption, high performance processor; The onboard memory, supporting the fast algorithm with fast storage; Multi-serial port design, support the Mini HDMI/an LVDS showed that support independent double show; So design, support gigabit Ethernet/WIFI / 3 g / 4 g networks, with flexible network application environment; Support Android/Linux operating system, the product of extensibility is greatly enhanced.
l NORCO China in the tablets
NORCO can provide automatic biochemical analyzer function monitoring for industrial production custom of tablets, including increasing customer hardware, interface, customize various exterior structure and the screen size, etc. The product conforms to the VESA standard; Adopt WLED backlighting can touch all planar capacitance/resistance type LCD, application experience good; High resolution, supports human-computer interaction; Rich function interface design, support gigabit Ethernet/WIFI / 3 g / 4 g networks, support the HDMI output, can meet the demand of various ancillary access; New fanless wide temperature cooling structure, low power consumption and high reliability.
NORCO China thought, in vitro diagnostic industry with the policy to be born, and the related enterprise technology accumulation increase gold could usher in a new development period. To customer demand as the guidance, north China will continue to innovation, and control in the surrounding of high-end medical equipment market launch more professional and reliable, perfect embedded computer system products.