NORCO: focus on "5G + AI" technology, street lamp power wisdom urban system construction
With wisdom city BBS held successfully in Beijing, "5 g + AI" wisdom city construction, intelligent iot products quickly become a hot topic. Urbanization and urban construction synchronous landing wisdom, 5 g micro station super dense network operator and AI intelligent technology of blessing, will drive the mass wisdom light pole demand release, street lamp will become wisdom city construction is an important step in the cross ahead.
Street light, the nuggets wisdom city trillions of market
Street lamp system is wisdom city construction of the nervous system, connected to the 5 g can get through the city's neurons, by applying advanced, efficient and reliable technology, power line carrier-current communication AI intelligent identification and GPRS/CDMA wireless communication technology, etc., for the street lamp remote centralized control and management.

Image: thousands of grid (if the infringement please contact delete)
Upgrade to traditional street lamp for street lamps wisdom, wisdom is the foundation of urban construction.
In 5 g and AI intelligent technology such as high-speed transmission network, under the support of intelligent street lamp will set lighting, digital surveillance, information release, WIFI network and multiple functions such as module into an organic whole. Powerful data intelligent street lamp system control, data transmission, wireless remote control and the characteristics of complex harsh outdoor environment adaptability, to the required system embedded computer products put forward higher requirements, especially in graphics processing power, AI intelligent identification, expansibility and stability, etc.
NORCO:embedded computer power street lamp business wisdom
Internal complex structure and remote control system based on intelligent street lamp, NORCO after years of development, research and development of the thoughts, intelligence is based on sea pu more intelligent chip embedded computer products, such as interface not only is rich, but also has high and low temperature adaptability (in - 40 ~ 60 ℃ temperature within the scope of normal running), can adapt to all kinds of complicated environment. No fan cooling design, make the product dust high, strong stability. Strong compatibility, expansibility, can support a variety of intelligent function extension, can be widely used in intelligent street light, intelligent bus-stop, intelligent parking lot and other network application environment.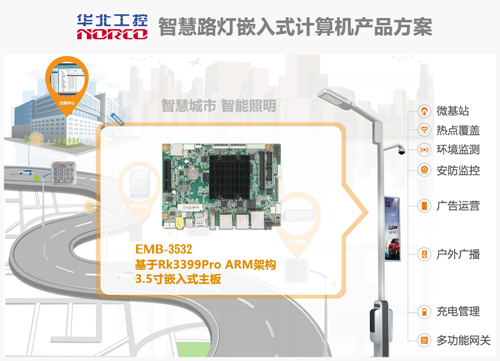 Based on Rk3399Pro ARM architecture 3.5 -inch embedded AI motherboard
This one based on Rockchip NORCO Rk3399Pro processor embedded motherboard EMB - 3532, products with neural network processing unit NPU, operational performance is as high as 2.4 TOPs, can provide abundant IO interface, plate type is compact, high integration, low power consumption, high extension, also carrying the Android open source system, can meet the demand of more AI field, except in the field of intelligent street lamp, in face recognition device, robots, unmanned aerial vehicles, and other areas of the Internet of things also has a broad application.
With 5 g bearing network and AI intelligent street lamp construction technology for the rapid development platform, which also cannot leave the embedded in the aid of computer hardware and software. NORCO as a professional manufacturer of embedded computer products, developing more embedded computer product can meet the wisdom needed for the street lamp system computer platform strong data processing ability and AI intelligent identification requirements, provide wisdom city construction fall to the ground.