Smart acceleration, NORCO launched CNC laser cutting machine dedicated computer products!
The requirements made in the face of "smart" era, combined with modern numerical control technology, laser processing technology derived CNC laser cutting machine, with its flexibility and flexibility is gradually replace the traditional processing method, broader market space.

1、Power intelligent CNC laser cutting machine manufacturing
CNC laser cutting, represents the development direction of modern metal machining technology. Along with our country's automobile, shipbuilding, aviation and space, steel and other industries, with the rapid development of enterprises in the industry to improve technology assembly level, the higher speed, higher precision, rapid growth of the market demand of intelligent laser cutting equipment. Based on the laser processing technology with modern CNC laser cutting machine of numerical control technology support efficient automated processing work, in the large-format high-precision plate cutting can greatly shorten the product development time, improve the performance of components to promote the rapid development of China's key industry equipment manufacturing industry is of great significance.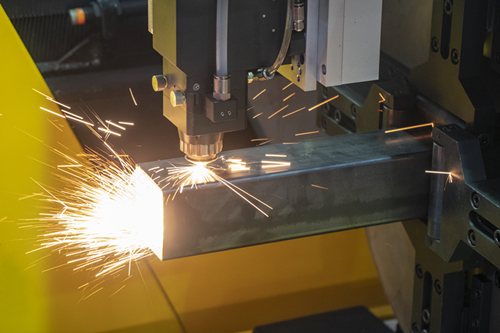 Image: thousands of grid (if the infringement please contact delete)
NORCO learned that in the structure design of nc laser cutting machine, is a stable and reliable hardware platform for the foundation, the technical characteristic of laser cutting developed to meet the requirements of smart laser cutting control system. The system integration application of computer numerical control technology, optical technology, automatic control technology, etc., will be cutting process database, remote control, remote diagnosis, integration, such as high precision positioning by the central computer control system to realize high speed running under good machine tool motion control performance. Configured on the machine tool industry tablet, also supports human-computer interaction, the voice prompt, the equipment running status real-time monitoring, etc., convenient operation and maintenance.
Made "smart" era, the high quality development of key industries has full access to quality, and the new stage efficiency. NORCO for many years based on the research of embedded computer technology, insist on innovation, create the special-purpose computer products, CNC laser cutting machine can be assigned to the transformation and upgrading of traditional industries.
2、NORCO embedded computer products
NORCO is the domestic well-known provider of embedded computer products. For laser industry, the company USES the Intel, Hisilicon, NXP, Rockchip, Phytium, such as low power consumption, high performance processor, create the diversity of embedded motherboard, embedded systems, industrial machine and tablet computer hardware, such as CNC laser cutting machine can be applied to system.
Based on CNC laser cutting machine remote control, remote diagnosis, high accuracy positioning function such as high integration application requirements, NORCO to build a diversified computer interface card scheme. Product support Intel celeron, pentium, CPU core series, supported Rockchip, NXP, Hisilicon, Phytium series, CPU can be differentiated according to different chipset function extension; Integrated and efficient processing core, powerful force; The onboard memory, support high-speed storage; Has the rich I/O interface function, support + HDMI VGA display, support high resolution, the onboard soundcard, supports dual channel 5 w power amplifier, can meet the demand of various ancillary access; Support gigabit Ethernet/WIFI / 3 g / 4 g networks, with flexible network application environment.
Based on CNC laser cutting machine and efficient automated processing work demand, NORCO can provide industrial machine specially designed for industrial field. Product support ECC function; Multi-serial port design, support VGA, HDMI display interface; So more design, support support gigabit Ethernet/WIFI / 3 g / 4 g networks; EIARS - 310 - c standard, USES the high quality carbon high strength structural steel enclosure structure, excellent strength and stiffness; Positive pressure double ball fan design, excellent heat dissipation effect, higher system stability; Drive anti-shock design, which can effectively protect the drive, prolong the service life of equipment.
NORCO is a special computer industry leading enterprises, in the face of "laser + smart manufacturing" time request and market orientation, improve the company's capacity for independent innovation, high-tech will launch more embedded computer products, make intellectual development to improve high quality equipment hardware.