NORCO: can make embedded computer make industrial robots, help to build a manufacturing powerhouse
Currently, represented by artificial intelligence of a wave of technological change occurs repeatedly, intelligent robot strategic emerging industries as an important component, is to realize the industrial production the importance of intelligence, automation, network equipment, accompanied by manufacturing powers such as the implementation of the strategy and promote ushered in the rapid development.

01
By the rapid development of the market in recent years, domestic robot, the robot the number is growing rapidly. Industrial robot as "leading role" of production system, applied in the field of domestic manufacturing scope expands unceasingly, from simple material handling, stacking crib, automatic assembly, a single application, such as CNC machining, and the function of the high integration of high-end applications such as visual inspection, laser scanning, the figure of industrial robots is from traditional automotive industry, 3C electronic, metal processing and market to the high-tech fields such as aerospace, pharmaceutical, biochemical accelerating extension. At the same time, the quality of the market for industrial robot and performance put forward higher requirements.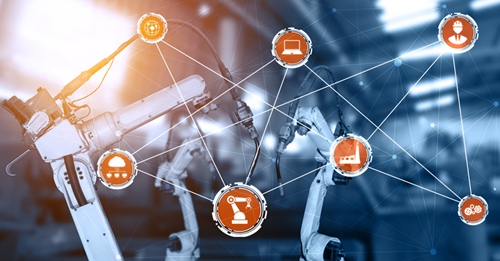 Image: thousands of grid (if the infringement please contact delete)
From the perspective of the technical demands of industrial robots, high strength, for a long time with high accuracy, high continuity of assembly line work is the basic needs of production and processing, manufacturing enterprises to make them available for high-performance servo drive and control system of key hardware has high demand. In addition, in order to realize the industrial robot and the fusion of advanced technologies such as artificial intelligence, machine vision applications, industrial robot control system hardware also needs to have good ability of extension, network connectivity, data transmission, analysis and processing ability and graphics processing power, etc., to ensure that each work link operation quality and efficiency.
Therefore, the industrial robot manufacturers to adopt more special embedded computer products such as NORCO industry as the hardware platform, improve product quality and reliability, realize the high-end, intelligent development of industrial robots.
02
NORCO is a collection of special computer industry product research and development, manufacturing, sales and service in one of the state-level high-tech enterprises, sticks to the intelligent control in power service social development concept, build the intelligent robot with high-performance embedded computer products, can meet the industrial robot for control system hardware is small in size, low power consumption, high quality, high performance and so on various aspects of demands.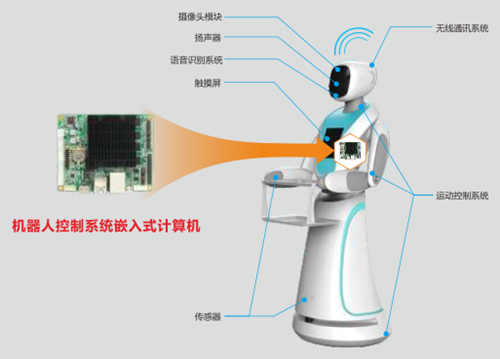 NORCO Robot control system block diagram
NORCO intelligent robot with embedded computer products, embedded system, including computer interface card industry machine and tablet, etc. Main technical characteristics of products are as follows:
1. Product support Intel celeron, pentium, CPU core series, supported Rockchip, Freescale, Hisilicon, Phytium series, CPU can be differentiated according to different chipset
platform function extension;
2. The on-board memory, high-speed support application algorithm and high-speed storage;
3. Multi-serial port design, support + HDMI display interface, VGA support high resolution, the onboard soundcard, support dual channel 5 w power amplifier;
4. So design, support gigabit Ethernet/WIFI / 3 g / 4 g networks, with flexible network application environment;
5. Integrated 3 d graphic unit and high-definition video/image codec engine, support more upscale image processing and hd display;
6. Support the PCIE card, graphics CARDS, acquisition card, card and other extension;
7. In strict accordance with the industrial standard, good electromagnetic compatibility, high system stability;
8. Using Android/Linux operating system such as intelligence, easy to use, easy to maintain.
In addition, NORCO can also be multiple industries provide highly flexible and customized products and services, fully meet the diversified manufacturing enterprises, flexibility, small batch production requirements, can provide effective help for transformation and upgrading of traditional manufacturing enterprises.